---
Quotes About the Artwork of Thomas C. Jackson
Artist's Statement About
Recent Work
Recent photographs and oil paintings by Thomas C. Jackson exhibited at
KAROLYN SHERWOOD GALLERY
October 6 to November 12, 2005
Des Moines

Untitled No. 17, color photograph, 2005, 20" X 15"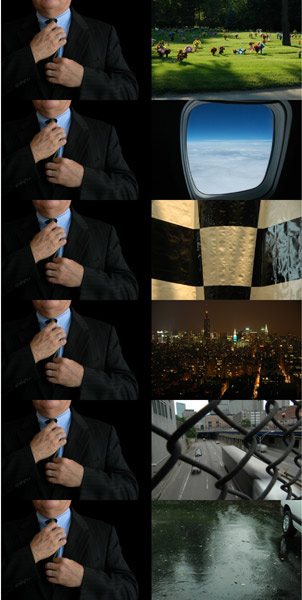 Untitled No. 43, color photograph, 2005, 60" X 30"
Jackson's pairings present puzzles
By AMANDA PIERRE, DES MOINES REGISTER STAFF WRITER

There is no code to figuring them out. There is only the presentation, and viewers can make their own guesses about what Jackson is suggesting...
Strangely, Jackson's very different images always rhyme in figurative ways. Some of the paired photos seem to have compositional links to each other, such as matching lines, shapes or patterns. Others imply a narrative — like photos on a magazine page without a written explanation to make sense of them. Some have subtly rhyming colors or themes. One piece, selected for shows in Boston and New York, presents a most mysterious duality....
The intrigue keeps a viewer interested...
Images like these, he said, can serve as symbols that have particular meanings to viewers but different meanings for each viewer.