---
Quotes About the Artwork of Thomas C. Jackson
Artist's Statement About
Recent Work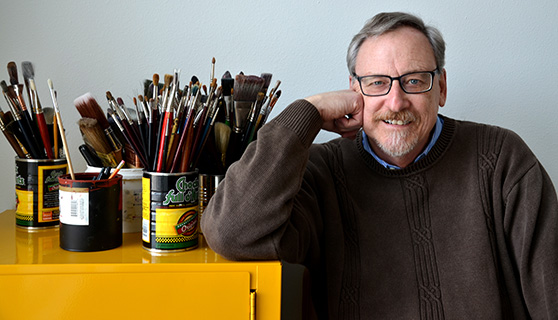 Artist Biography:
THOMAS C. JACKSON
Thomas C. Jackson was born in Rock Island, Illinois in 1950. He studied studio art at Western Illinois University in Macomb, Illinois, where he received a B.A. in 1972. He attended the University of Notre Dame where he earned an M.F.A. in 1974. While at Notre Dame, he taught an introduction to studio art course.
Starting in his undergraduate years, Jackson exhibited his work in juried and solo shows frequently. Prior to graduation he was offered a position teaching studio art at Mount Mercy College (now Mount Mercy University) in Cedar Rapids, Iowa (one of the places he had had a solo show). He taught drawing, painting, and a variety of other courses at Mount Mercy from 1974 to 1978.
In 1978 Jackson became Designer/Illustrator with a small ad agency in Iowa. This experience led to a position in 1980 as a Designer at Stamats, Inc., a firm that is recognized nationally as a leader in higher education marketing. During his two decades at Stamats, he also served as Design Department Head, Account Executive, Creative Director, Vice President & General Manager, and Vice President for Client Development. It is important to note that during all of his years in marketing that Jackson continued to create art.
SELECTED JURIED EXHIBITIONS, GROUP SHOWS, AND SOLO SHOWS
Through the Lens: Photography after 1950 from the Collection, Cedar Rapids Museum of Art, Cedar Rapids, IA, 2023
Honoring the Human Form, Drawing Group Show, CSPS, Cedar Rapids, IA, 2022
Drawn to Spectacle, group show of fair and circus themed work, Figge Art Museum, Davenport, IA, 2021
2100 and Counting: Looking at the Collection in the 21st Century, group exhibit of works from permanent collection, Dubuque Museum of Art, Dubuque, IA, 2021
Drawn in Iowa, Iowa Drawing Group Show, Galesburg Civic Art Center, Galesburg, IL, 2021
Of An Era International Juried Art Exhibition, The Art Effect at Trolley Barn, Poughkeepsie, NY, 2021
Winter Group Show, Moberg Gallery, Des Moines, IA, 2021
?Binary¿NonBinary? national juried online Curve Gallery exhibition, Maryland Federation of Art (Annapolis, MD), 2020
Wide Open 10 National Juried Art Show, Brooklyn Waterfront Artists Coalition (BWAC), Brooklyn, NY, 2019
EXPO 38 national juried exhibition, b.j. spoke gallery, Huntington, NY, 2019, Maquette 38 and Maquette 39
Into the Blue regional juried exhibition, Cedar Rapids Museum of Art, Cedar Rapids, IA, 2019
Line, invitational group drawing show, Blanden Memorial Art Museum, Fort Dodge, IA, 2019; this exhibition also traveled to Gallery 52, Fairfield, IA, 2019
(15 year) Anniversary Group Show, Moberg Gallery, Des Moines, IA, December 3, 2018 to February 23, 2019
PhotoBOLD group invitational photography show, This End Up group invitational of abstract art, and Taboo group invitational, Black Earth Gallery, Cedar Rapids, IA, 2019
Anniversary Show, group show, Moberg Gallery, Des Moines, IA, Dec. 3, 2018 to Feb. 23, 2019
COLOR National Art Show, Waterfront Artists Coalition (BWAC), Brooklyn, NY, 2018, Maquette 8 and Maquette 44
Expo 37 national juried exhibition, b.j.spoke gallery, Huntington, NY, 2018, Maquette 21, Maquette 25, and Maquette 8
Wide Open 9 National Juried Art Show, Brooklyn Waterfront Artists Coalition (BWAC), Brooklyn, NY, 2018, Woman 2017 22 and Woman 2015 97
Group Show, Moberg Gallery, Des Moines, IA, 2018
Being Human solo show, Black Earth Gallery, Cedar Rapids, IA, 2018
Invitational: Bruce Bobick, The Ripple Effect, new work and influences: three former professor and more than thirty students, Carrollton Center for the Arts & Arts Commission, Carrollton, GA, 2018
Strokes of Genius, a national painting exhibition, Maryland Federation of Art Circle Gallery, Annapolis, MD, 2017, 12 Cakes
Wide Open 8 National Juried Art Show, Brooklyn Waterfront Artists Coalition (BWAC), Brooklyn, NY, 2017
Focal Point Exhibition, a national photography show examining the use of digital media, Maryland Federation of Art Circle Gallery, Annapolis, MD, 2017, American Slice 38 and American Slice 37
Dialog Human, The Drawings of Priscilla Steele & Thomas C. Jackson, two-person show, Dubuque Museum of Art, Dubuque, IA, 2016-2017
Thomas C. Jackson, solo show of photographs, oil paintings, and drawings; Farnham Galleries, Simpson College; Indianola, IA; 2017
Au Naturel; the Nude in the 21st Century, Nebeker Art Gallery, Clatsop Community College, Astoria, OR, Man 2016 04 and Suddenly everything began to spin, 2017
Positive / Negative national juried exhibition, Tipton Gallery, East Tennessee State University, Johnson City, TN, 2017
Vernal Equinox and You Move Me: Planes, Trains, and Automobiles; group shows, Black Earth Gallery, Cedar Rapids, IA, 2017
Watercolor USA 2016, a national, annual juried exhibition recognizing aqueous media painting, Springfield Art Museum, Springfield, MO, 2016, Watercolor Honor Society Award of Excellenc, Maquette 3
2016 National Prize Show, Cambridge Art Association, Cambridge, MA, 2016
Art on Paper, Circle Gallery, Maryland Federation of Art, Annapolis, MD, 2016, Award of Merit
31st Positive/Negative National Juried Art Exhibition, the Slocumb Galleries, East Tennessee State University, Johnson City, TN, 2016, FIND ROMANCE and I'M INNOCENT
Solo show, American Narratives photographs, Iowa State University Memorial Union Gallery, Ames, IA, 2016
From Cornfields to Cliffs and In Between: Daily Palette Artists Reimagine Iowa's Landscape, Old Capitol Museum, the University of Iowa, 2016, American Slice 31 and American Slice 34
Pursuit of Happiness group show, presented by Legion Arts at CSPS Hall, Cedar Rapids, IA, 2016, Child's Play 9, 13, 17, 22, 25, 58, and 60
Au Naturel international juried exhibition, Clatsop Community College, Royal Nebeker Gallery, Astoria, OR, 2016
The Office, group show of current and past Stamats employee artists; Peep Show; and Size Matters (three exhibitions) Black Earth Gallery, Cedar Rapids, IA, 2016
Black & White National Juried Art Show NYC, Brooklyn Waterfront Artists Coalition (BWAC), Brooklyn, NY, 2015, Certificate of Recognition award
53rd International Show, San Diego Art Institute, San Diego, CA, 2015, American Slice 34, American Cipher 61
Wide Open 6 National Juried Art Show, Brooklyn Waterfront Artists Coalition (BWAC), Brooklyn, NY, April 26 to June 1, 2015
National Juried Competition: Works On Paper - 2015, Long Beach Island Foundation of the Arts and Sciences, Loveladies, NJ, 2015
40/40 Exhibition of Iowa Artists, Brunnier Art Museum, Iowa State University, Ames, IA, 2015
Midwest Summer: Light and Warmth, Cedar Rapids Museum of Art, Cedar Rapids, IA, 2015
DRAWN TOGETHER: DIALOG HUMAN 2015, two person show with Priscilla Steele and Thomas C. Jackson, University of Northern Iowa Gallery of Art, 2015
5th Dubuque Museum of Art Biennial Juried Exhibition, Dubuque Museum of Art, Dubuque, IA, 2015, American Cipher 61, American Slice 33
Halo, solo show, Western Illinois University Art Gallery, Macomb, IL, 2014
Solo Show, Moberg Gallery, Des Moines, IA, 2014
Dialog Human, The Drawings of Priscilla Steele & Thomas C. Jackson, two-person show, ICON Contemporary Art, Fairfield, IA, 2014
Wide Open 5 National Juried Art Show, Brooklyn Waterfront Artists Coalition (BWAC), Brooklyn, NY, 2014
Dialog Human, The Drawings of Priscilla Steele & Thomas C. Jackson, two-person show, Waterloo Center for the Arts, Waterloo, IA, April 12 to June 29, 2014

A Curious Mind, Solo Show, Buchanan Center for the Arts, Monmouth, IL, 2014

The Human Figure, group show, Moberg Gallery, Des Moines, IA,, 2014
29th Annual International Exhibition, Meadows Gallery, The University of Texas at Tyler, Tyler, TX, 2014, American Cipher 61, American Slice 31, American Slice 33
Of Midwest, By Midwest regional juried photography exhibition, Overture Center for the Arts, Madison, WI, 2014, American Slice 31, American Cipher 40, American Cipher 41
9th Annual Human Rights Art Exhibition, Cooper Center for Communication Arts, South Texas College, McAllen, TX, 2014
CONTEXT, Packer Schopf Gallery booth group show, the CONTEXT Pavilion, Miami FL, 2013
New Directions '13, 28th Annual National Juried Contemporary Art Exhibition, Barrett Art Center, Poughkeepsie, NY, 2013, American Slice 28, American Cipher 59, and American Cipher 60
Americas 2013: All Media, Northwest Art Center, Minot State Univerisity, Minot, ND, 2013

Sol

o show, HALO, new drawings, Packer Schopf Gallery, Chicago, IL, 2013
Wide Open 4 National Juried Art Show, Brooklyn Waterfront Artists Coalition (BWAC), Brooklyn, NY, 2013
8th Annual Human Rights Exhibition, South Texas College, McAllen, TX and Gallery 409, Brownsville, TX, 2013
Nude Attitude national juried exhibition, the Peoria Art Guild Foster Arts Center, Peoria, IL, 2013
Art cetera '13, Sioux City Art Center, Sioux City, IA 2013
Director's Choice Exhibit: Picture Perfect 2 national group photography show, Viridian Artists, New York, NY, 2012
10th Anniversary Exhibition group show, Moberg Gallery, Des Moines IA, 2012
64 Arts National Juried Exhibition, Buchanan Center for the Arts, Monmouth, IL, 2012, American Slice 26, American Cipher 48, American Cipher 52, and Take Our Picture Food Court
Artspace International Juried Printmaking & Photography Exhibition, Artspace Gallery @ Plant Zero, Richmond, VA, 2012, American Cipher 50 and American Cipher 58
Photowork 2012, the Dutchess County Art Association / Barrett Art Center's 24th Annual National Juried Photography Exhibition, DCAA / BAC Main Galleries, Poughkeepsie, NY, 2012, American Cipher 52, American Cipher 53, and American Cipher 41
7th Annual Human Rights Exhibition, South Texas College, McAllen, TX, 2012
Sixth Annual Au Naturel International Juried Exhibition, Clatsop Community College Art Center Gallery, Emporia, OR, 2012
Lure of the Local, Collecting the Corridor, (group show of recently acquired works), Cedar Rapids Museum of Art, Cedar Rapids, IA, 2012
Solo Show, Child's Play, Moberg Gallery, Des Moines, IA, 2011
54th Chautauqua Annual Exhibition of Contemporry Art, Strohl Art Center, Chautauqua Institution, chautauqua, NY, 2011
NEXT, part of Artropolis, the Merchandise Mart, Chicago, IL, (booth 9A, Packer Schopf Gallery), 2011
Solo Show, Child's Play, Packer Schopf Gallery, Chicago, IL, 2011
PHOTOWORK 2011, the Dutchess County Art Association / Barrett Art Center's 24th Annual National Juried Photography Exhibition, DCAA / BAC Main Galleries, Poughkeepsie, NY, 2011
Intriguing Images: Docent Picks from the Figge Collection, Figge Art Museum, Davenport, IA, 2011
Solo Show, Broken Narratives, ICON Iowa Contemporary Art, Fairfield, IA, 2011
25th International Juried Show, Visual Arts Center of New Jersey, Summit, NJ, 2011
Kinsey Institute 2011 Juried Art Show at the SoFA Gallery, (to be renamed the Grunwald Gallery of Art mid-way through the exhibits run), Indiana University, Bloomington, IN, 47405, 2011
6th Annual Human Rights Exhibition, Art Gallery, South Texas College, McAllen, TX, 2011
Paperworks 2010 Juried Competition, b.j.spoke gallery, Huntington, NY, 2010, Child's Play 37, Child's Play 41, and Child's Play 42

21st Annual International Juried Exhibition

, Viridian Artists, New York, NY, July 6 to July 24, 2010

33rd Annual Art on Paper exhibition

,

Maryland Federation of Art, Annapolis, MD, 2010

Visiting Artists Exhibit group show, Moberg Gallery, Des Moines, IA, 2010
Selected Works, group show, CSPS presented by Legion Arts, Cedar Rapids, IA, 2010
ICON Invitational, Icon Contmporary Arts, Fairfield, IA, 2010
Curator's Choice 2009 competition, Artists Talk On Art, group show at Tenri Cultural Institute, New York, NY, (December 3 to 13, 2009) and panel discussion at the School of Visual Arts, New York, NY, 2009
18th National Juried Show, Art Center of Northern New Jersey, New Milford, NJ, 2009, Honorable Mention Award
American Narratives, Solo Show, Cedar Rapids Museum of Art, Cedar Rapids, IA, March 14 to May 31, 2009
Curator's Choice 2008 competition, Artists Talk On Art, group show at Jim Kempner Fine Art, New York, NY, (September 24 to 30, 2009) American Slice 15 and American Slice 17, and panel discussion at the School of Visual Arts, New York, NY, (2008)
61st Juried Exhibition, Sioux City Art Center, Sioux City, IA, 2008 and 2009, American Slice 17, American Slice 21, and American Slice 22

41st Annual Visual Arts Exhibition

, Visual Arts Society of Texas, Denton, TX, 2009

Watercolors by "Purple Max" Award Alumni, et. al., Art Gallery, Western Illinois University, Macomb, IL, 2009
Bare Life, an international exhibition at Museum on the Seam, Jerusalem, Israel, 2007-2008,

(Capturing Reality)

Politics and the People, Solo Show, paintings, Western Illinois University Art Gallery, Macomb, IL, October 28 to November 20, 2008
Looking for More, Solo Show of recent paintings, Dubuque Museum of Art, Dubuque, IA,, 2008
American Zeitgeist, Solo Show, Sylvia White Gallery, Ventura, CA, 2008, (American Cipher 19, American Slice 17, American Slice 18, American Slice 27, Untitled No. 12, Untitled No. 17, Untitled No. 43)
26th Annual Juried Exhibition, Pleiades Gallery of Contemporary Art, Inc., New York, NY, 2008, (American Slice 17 and American Cipher 36)
72nd Midyear, Butler Institute of American Art, Youngstown, OH, 2008, (American Slice 9, American Slice 12, and American Slice 18)
Artspace National Juried Photography and Printmaking 2008, Artspace @ Plant Zero, Richmond, VA, 2008
Third Annual Human Rights Art Exhibition, international juried traveling show, the University of Texas Pan American, Edinburg, TX, and Universidad de Monterrey, Monterrey, Mexico, 2008
I

owa Pastimes: Politics and State Fairs

, Solo Show, Figge Art Museum, Davenport, Iowa, 2007
Photography 2007 National Juried Competition, b.j.spoke gallery, Huntington, NY, 2007, (American Cipher 26, American Cipher 28, American Cipher 22)
16th National Juried Show, Art Center of Northern New Jersey, New Milford, NJ, 2007, (Untitled No. 9 and American Cipher 19)

2007 Texas Visual Arts Association (T

VAA) National All Media Juried Art Exhibition, Irving Arts Center, Irving, TX, (American Cipher 11, American Cipher 19 (recognized with Juror's Award), American Cipher 5, and Untitled No. 9.)

Solo Show, Karolyn Sherwood Gallery, Des Moines, IA,

2007

10th Annual National Prize Show, Cambridge Art Association Galleries, Cambridge, MA, (May 4 until June 20) 2007

Glimpses in Time - A Juried Exhibition in Honor of Gordon Parks, Joyce Gordon Gallery, Oakland, CA, 2007, (Untitled No. 12 and Untitled No. 17)
Another View, Los Angeles Printmaking Society's additional exhibition of the 19th National at the Weingart Gallery, Occidental College, Los Angeles, CA, 2007
Seventh National Juried Show, Ceres Gallery, New York, NY, 2006, Third Place Award

49th Annual Chautauqua National Exhibition of American Art

, Galleries of the Chautauqua Center for the Visual Arts, Chautauqua, NY, 2006

60th Juried Exhibition, Sioux City Art Center, Sioux City, IA, 2006 (Untitled No. 43 and Untitled No. 55)

PHOTOWORK '06, national juried exhibition,

Barrett Art Center, Poughkeepsie, NY, 2006 (Untitled No 17 and Untitled No. 12)

American Snapshots, Solo Show

, presented by Legion Arts at CSPS, Cedar Rapids, IA, 2006
Cedar Rapids: Day into Night, Cedar Rapids Museum of Art, Cedar Rapids, IA, 2006

Snap to Grid the UN-Juried show, Los Angeles Center for Digital Arts, Los Angeles, CA, 2006

New Art '05, Kingston Gallery, Boston, MA, (July 8 to August 13) 2005 (Untitled No. 11 and Untitled No. 17)

sELECTIONs, Artists Respond to the 2000/2004 Presidential Elections, Santa Fe Art Institute, Santa Fe, NM, 2004

Group Show, Gruen Galleries, Chicago, IL, 2001, 2002, 2003, 2004

International Juried Exhibition sponsored by the World Council for Arts & Culture & Peninsula Open Studios, Herbst International Exhibition Hall, the Presidio, San Francisco, CA, 2003

Five Abstract Voices, ArtHouse Gallery, Des Moines, IA, 2003

Paper Invitational 5, Woodward Gallery, New York, NY, 2002
The New Expressionists, Dubuque Museum of Art, Dubuque, IA, 2002
Iowa 2002: New Art, Cedar Rapids Museum of Art, Cedar Rapids, IA, 2002 (Ask Me Again Tomorrow, Oasis, and Stela 3)
Solo Show, Wright Museum of Art, Beloit College, Beloit, WI, 2001

Watercolor Invitational, McAuley Gallery, Mount Mercy College, Cedar Rapids, IA, 2001

44th Annual Beloit & Vicinity Exhibition, Wright Museum of Art, Beloit College, Beloit, WI, 2001

Solo Show, Keokuk Art Center, Keokuk, IA, 1999

Solo Show, Lundy Commons, Mount Mercy College, Cedar Rapids, IA, 1998

Solo Show, Sinclair Gallery, Coe College, Cedar Rapids, IA, 1986

Alumni/Faculty Exhibit, Snite Museum, University of Notre Dame, Notre Dame, IN, 1980

Solo Show, The Stanley Gallery, Muscatine Art Center, Muscatine, IA, 1979

Watercolor USA, Springfield Art Museum, Springfield, MO, 1978

15th Joslyn Biennial, Joslyn Art Museum, Omaha, NE, 1978

Quad City Fine Arts Exhibition, Centennial Hall Gallery, Augustana College, Rock Island, IL, (cash award), 1977

2nd Annual College of Saint Mary Print, Drawing, and Painting Competition, Angelo Art Gallery, College of Saint Mary, Omaha, NE, (Purchase Award), 1977

Mid-Mississippi Valley Annual, Davenport Municipal Art Gallery, Davenport, IA, 1977

29th Annual Iowa Artists Exhibition, Des Moines Art Center, Des Moines, IA, 1977

Three-Person Show, Armstrong Gallery, Cornell College, Mount Vernon, IA, 1977

Solo Show, The Art Center, Inc., South Bend, IN, 1976

28th Annual Iowa Artists Exhibition, Des Moines Art Center, Des Moines, IA, 1976

12th Mid-Mississippi Valley Annual, Davenport Municipal Art Gallery, Davenport, IA, (Award for Excellence, Graphics), 1974

Illinois Grand Salon, Mid-Continental Plaza, Chicago, IL, 1974

Watercolor USA, Springfield Art Museum, Springfield, MO, 1974

Works on Paper, Indianapolis Museum of Art, Indianapolis, IN, 1974

The Seventh Annual Marietta College International Competitive Exhibition, Marietta College, Marietta, OH, 1974

Images on Paper, Springfield Art Association, Springfield, IL, 1974

University of Notre Dame Art Faculty Group Show, University of Minnesota, Minneapolis, MN, 1974

Eighth Biennial Michiana Local Art Competition, The Art Center, Inc., South Bend, IN, 1973

Indianapolis Art League Foundation Art "500" Show, Indiana Convention-Exposition Center, Indianapolis, IN, 1973

The Thirtieth Annual Exhibit, Northern Indiana Art Association, Inc., Hammond, IN, (Award for Distinctive Watercolor), 1973

Anderson Winter Show, Anderson Fine Arts Center, Anderson, IN, (Purchase Award and First Place Watercolor), 1973

Images on Paper, Springfield Art Association, Springfield, MO, 1973

National Print and Drawing Show, Art Gallery, Western Illinois University, Macomb, IL, 1972
GALLERLY REPRESENTATION
Thomas C. Jackson is represented by:
PUBLICATIONS
Artwork by Thomas C. Jackson is in the following publications:
The Nashville Review, Issue 38, nine pages from graphic novel 2184 1/2 in COMICS section, Summer 2022
Canyon, River, Stone and Light; Poems inspired by music, art, photography, sculpture and dance, Blue Light Press Summer Workshop, Blue Light Press, 2021
American Tricksters: Thoughts on the Shadow Side of a Culture's Psyche, (cover illustration) Cascade Books, William J. Jackson, 2014
Oyez Review, Volume 38, Spring 2011, the literary magazine of the Creative Writing Program at Roosevelt University, Arielle Nelson Editor in Chief, Janet Wondra Publisher
American Fever, a tale of romance and pestilence, by Peter Christian Hall, 2009
Studio Visit, Volume 3, The Open Studios Press, 2008, Boston, MA, Steven T. Zevitas Editor and Publisher, Carl Belz, Director Emeritus, The Rose Museum at Brandeis University, Juror
Bare Life, On the Seam / Socio-Political Contemporary Art Museum, Jerusalem, Israel, 2007, Raphie Etgar Curator, Roy Brand Texts Editor
TALKS
Thomas C. Jackson has given numerous talks and participated in panel discussions. Among these are:
2184 1/2, a graphic novel by Thomas C. Jackson and Fritz McDonald

, Cedar Rapids Museum of Art, Cedar Rapids, IA, 2022

2184 1/2, a graphic novel by Thomas C. Jackson and Fritz McDonald

, Prairie Lights Books & Cafe, Iowa City, IA, 2022

Ink Wash Drawing and Watercolor

, drawing class demonstration, Coe College, Cedar Rapids, IA, October 24, 2018

Dialog Human

gallery talk, two person show with Pricilla Steele, Dubuque Museum of Art, January 7, 2017
Art Bites -- Midwest Summer Artists: Jackson, Marlow, Wiederspan, August 5, 2015
Drawn Together: How Collaboration Raises the Bar, University of Northern Iowa Gallery of Art, January 28, 2015
Dialog Human gallery talk, two person show with Priscilla Steele, Waterloo Center for the arts, May 15, 2014
A Curious Mind: 40 Years of Making Art gallery talk, Buchanan Center for the Arts, Monmouth, IL, March 12, 2014
Artwork by Thomas C. Jackson, Mount Mercy University Senior Thesis class taught by Jane Gilmor, Cedar Rapids, IA, March 1, 2012
Artwork by Thomas C. Jackson, Art institute of Chicago Scientific Illustration class taught by Peggy MacNamara at the Field Museum, Chicago, IL, March 22, 2011
Panel discussion at the School of Visual Arts, New York, NY, Curator's Choice 2009, Artists Talk On Art, New York, NY, 2009
American Narratives in Context: The Interplay of Photography and Painting, The Cedar Rapids Museum of Art, Cedar Rapids, IA, March 29, 2009
Making American Pictures, Western Illinois University Art Gallery, October 29, 2008
Panel discussion at the School of Visual Arts, New York, NY, Curator's Choice 2008, Artists Talk On Art, New York, NY, 2008
Looking for More, Dubuque Museum of Art, Dubuque, IA, September 21, 2008
Making American Pictures, The Figge Art Museum, Davenport IA, July 19, 2007
CORPORATE AND INSTITUTIONAL COLLECTIONS
Artwork by Thomas C. Jackson is in numerous private, corporate, and institutional collections including:
Figge Art Museum, Davenport, IA, State Fair
Cedar Rapids Museum of Art, Cedar Rapids, IA, American Slice 15, Stele dédiée aux de Tanis and American Imagery -- American Gothic
Dubuque Museum of Art, Dubuque IA
Sioux City Art Center, Sioux City, IA, Comic Strip Series 4 and Untitled No. 17
Brunnier Art Museum, Iowa State University, Ames, IA, American Slice 10
Aviva, Des Moines, IA
Henry B. Tippie College of Business, The University of Iowa, (for permanent display in the John Pappajohn Business Building), Iowa City, IA
Western Illinois University Art Gallery, Macomb, IL
UnityPoint Health -- Prairie Meadows, Cedar Falls, IA, Hanging Out at the Fair and Prairie Grass
Sanford Heart Hospital, Sioux Falls, SD, Rodeo Clown / Generations, Legionnaires Leading Parade, and State Fair 3
Art Gallery, Western Illinois University, Macomb, IL
Bradley & Riley P.C. (law firm), Cedar Rapids, IA
CRST (national trucking firm), Cedar Rapids, IA
Coralville Marriott Hotel and Conference Center, Coralville, IA
Kirkwood Community College, Cedar Rapids, IA
Cedar Rapids Bank & Trust, Cedar Rapids, IA
Stamats, Inc., Cedar Rapids, IA
St. Luke's Hospital, Cedar Rapids, IA
Suttleworth & Ingersoll, P.L.C. (law firm), Cedar Rapids, IA
Simmons Perrine Albright & Ellwood P.L.C. (law firm), Cedar Rapids, IA
MCI, Cedar Rapids, IA
Mount Mercy University, Cedar Rapids, IA
Mercy Hospital, Cedar Rapids, IA
Circa 21 (dinner theater), Rock Island, IL
Rock Island Fitness & Activity Center, Rock Island, IL
The Department of Internal Medicine, University of Iowa, Iowa City, IA
True North Companies (insurance and financial services), Cedar Rapids, IA