One-person show, Cedar Rapids Museum of Art
The following article appeared in the Cedar Rapids Gazette May 1, 1983 (the text is transcribed below):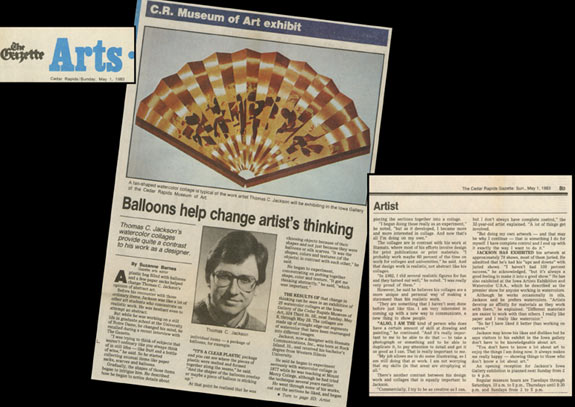 [headline] Balloons help change artit's thinking
[subhead] Thomas C. Jackson's watercolor collages provide quite a contrast to his work as designer. By Suzanne Barnes, Gazette arts editor
[copy] A plastic bag filled with balloons and a few paper sacks helped change Thomas C. Jackson's opinion of abstract art.
Before his encounter with those ordinary items, Jackson was like a lot of other art students who concentrate on realistic work. He was hesitant even to attempt an abstract.
But while he was working on a still life in graduate school at the University of Notre Dame, he changed his mind, he recalled during a recent interview with the Gazette.
"I was trying to think of subjects that weren't ordinary like you always think of in still lifes -- like fruit and a bottle of wine," he said. So he started collecting unusual items like paper sacks, scarves and balloons.
Gradually, the sapes of those items began to intrigue him. He described how he began to notice details about individual items -- a package of balloons, for example.
"It's a clear plastic package and you can see where the pieces of plastic were melted and formed together along the seams," he said/ "And the shapes of the balloons overlap or maybe a piece of ballon is sticking up."
At that point he realized that he was choosing objects because of their shapes and not just because they were balloons or silk scarves. "It was the shapes, colors and textures (of the objects) in contrast with each other," he said.
He began to experiment, concentrating on putting together shape, color and texture. "It got me thinking abstractly," he said, "which was important."
The results of that change in thinking can be seen in an exhibition of 25 watercolor collages at the Iowa Gallery of the Cedar Rapids Museum of Art, 324 Third St. SE, next Sunday, May 8, through May 28. The collages are made up of straight edge-cut segments of watercolor that have been rearranged into different images.
Jackson, now a designer with Stamats Communications, Inc., was born at Rock Island, Ill., and received his bachelor's degree from Western Illinois University. He said he began to experiment seriously with watercolor collage in 1977 while he was teaching at Mount Mercy College, although he had tried the technique several years earlier.
He went through some of his works, cut out the sections he liked, and began piecing the sections together into a collage.
"I began doing those really as an experiment," he noted, "but as it developed, I became more and more interested in collage. And now that's all I'm doing on my own."
The collages are in contrast with his work at Stamats, where most of his efforts involve design for print publications or print materials. "I probably work maybe 60 percent of the time on work for colleges and universities," he said. And that design work is realistic, not abstract like his collages.
"In 1982, I did several realistic figures for fun and they turned out well," he noted. "I was really very proud of them."
However, he said he believes his collages are a more unique and personal way of making a statement than his realistic work.
"They are something that I haen't seen done before just like this. I am very interested in coming up with a new way to communicate, a new thing to show people.
"Also, I am the kind of person who does have a certain amount of skill at drawing and painting," he continued. "And it's really importaqnt to me to be able to do that -- to take a photograph or something and to be able to duplicate it, to pay attention to detail and get it as good as I can. That is eally important to me.
"My job allows me to do some illustrations, so I am still doing that at work. I am not worrying that my skills (in that area) are atrophying at all."
There's another contrast between his design work and collages that is equally important to Jackson.
"Commercially, I try to be as creative as I can, but I don't always have complete control," the 32-year-old artist explained. "A lot of things eget involved.
"But dong my own artwork -- and that may be why I continue -- that is something I do for myself. I have complete control and I end up with it exactly the way I want to do it."
Jackson has exhibited his artwork at approximately 70 shows, most of them juried. He admitted that he's had his "ups and downs" with juried shows. "I haven't had 100 percent success," he acknowledged, "but it's always a good feeling to make it into a good show." He has also exhibited at the Iowa Artists Exhibition and Watercolor U.S.A., which he described as the premier show for anyone working in watercolors.
Although he works occationally in oils, Jackson said he prefers watercolors. "Artists develop an affinity for materials as they work with them," he explained. "Different materials are easier to work with than others. I really like paper and I really like watercolor."
"So far I have liked it better than working on canvas."
Jackson may know his likes and dislikes but he says visitors to his exhibit in the Iowa gallery don't have to be knowlegeable about art.
"You don't have to know a lot about art to enjoy the thinkg I am doing now. It always makes me really happy -- showing things to those who don't know a lot about art."
An opening reception for Jackson's Iowa Gallery exhibition is planned next sunday from 2 to 4 p.m.
Regular museum hours are Tuesdays through Saturdays, 10 a.m. to 5 p.m., Thursdays until 8:30 p.m. and Sundays from 2 to 5 p.m.