---
Quotes About the Artwork of Thomas C. Jackson
Artist's Statement About
Recent Work
One-Person Show, ArtHouse Gallery, Des Moines, IA, 2004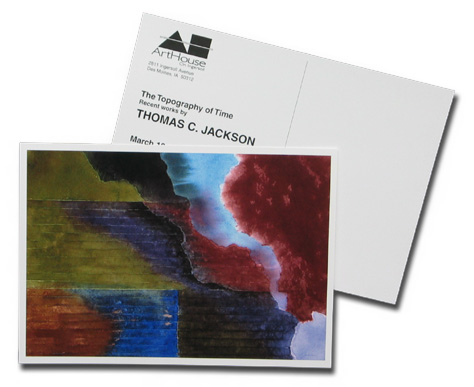 The Topography of Time
Recent Works by Thomas C. Jackson, March 12 to April 3, 2004
Each of my paintings is informed by a specific thought, idea, or even actual artifact. Each painting takes on a life of its own and reveals the necessary form and structure as I create it. Each painting is about my reaction to a time and a place and the universal, timeless compulsions men have always experienced to divide space and render color to achieve emotion: the topography of time.
We live in a time of great technical progress. It is an age of segmentation with endless choices. The current world political unrest is inserted into our lives 24 hours a day. There is no end to potential distractions and our days and lives are fragmented, challenging our powers of focus and concentration. The traditional media and the Internet fill us with information apparently targeted at the least common denominator and often without regard to what is important. The march of Modernism accelerated until people could no longer see order, gave up, and labeled everything Post Modern. We are well beyond Andy Warhol's era of 15-minute fame into a far more splintered time.
In this environment I have the luxury of time. Time to think, to research, to focus and apply my thoughts. Time to stop and remove distractions. I've spent a great deal of time decompressing from 20 years as a businessman. Applying what I learned, of course, and I learned a great deal; but also intentionally looking at the world with fresh eyes, developing decision-making based not on numbers, not on market research, not on conventional wisdom, not considering implications to clients, a department, division, or company; but rather on my individual instinct, gut feeling, and emotion. The result is work that I am passionate about.
I approach my art with tremendous respect for the accomplishments of individuals, known and anonymous, who have come before me. I've researched and sketched artifacts and art objects both contemporary and ancient in wonderful museums including the Metropolitan Museum, MOMA, and the Brooklyn Museum in NYC; the Louvre, Musée Marmottan, and Musée D'Orsay in Paris, the Field Museum and Art Institute in Chicago; the Philadelphia Museum of Art and the University of Pennsylvania Museum of Archeology and Anthropology in Philadelphia; Art Gallery of Ontario in Toronto, the San Francisco Museum of Modern Art; the St. Louis Art Museum and Pulitzer Foundation for the Arts in St. Louis; the San Diego Museum of Man, and many others.
After studying what man has created in the past, I am more focused on the similarities that recur from civilization to civilization and from one time of man to another than I am in the differences. Abstract shapes engraved in stone 30,000 years ago recur in doodles we are not even aware we are making. Ancient Egyptians and people in Mesopotamia divided space on wall paintings and relief carvings in ways similar to modern and contemporary artists. Color palettes from ancient tomb walls and artifacts resonate still today.
It may be useful, though simplistic, to think of the influences on my art as a tale of three cities - and times: Cairo, Egypt 1,000 to 4,500 B.C.; Paris, France between 1880 and 1920; and New York City in the 1950's. I respond to the quiet dignity, the colors, and divisions of space of ancient Egypt; the depth, complexity, and density of color of the Impressionists; the large scale and personally emotional styles of the Abstract Expressionists. Other influences evident in my work are the many boyhood explorations of creeks and rivers and career expeditions via airplanes and interstates.
Click on photos below to view larger photos of the exhibition installation:
| | | |
| --- | --- | --- |
| View 1 | | |
| | | |
| View 7 | | |