One-person show, CornerHouse Gallery, Cedar Rapids, IA
The following article appeared in the Cedar Rapids Gazette November 18, 2001(the text is transcribed below):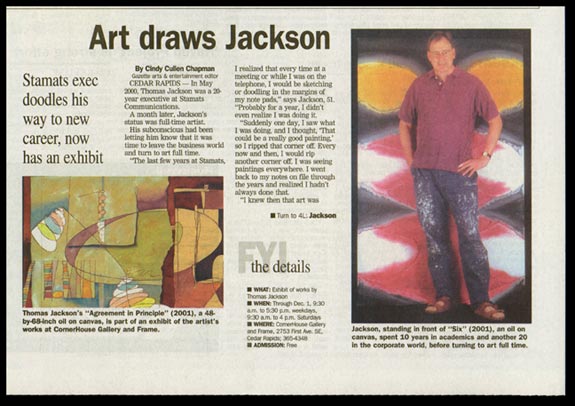 [headline] Art draws Jackson
[subhead] Stamats exec doodles his way to new career, now has an exhibit. By Cindy Cullen Chapman
[copy] In May 2000, Thomas Jackson was a 20-year executive at Stamats Communications.
A month later, Jackson's status was full-time artist.
His subconscious had been letting him know that it was time to leave the business world and turn to art full time.
"The last few years at Stamats, I realized that every time at a meeting or while I was on the telephone, I would be sketching or doodling in the margins of my note pads," says Jackson, 51. "Probably for a year, I didn't even realize I was doing it.
"Suddenly one day, I saw what I was doing, and I thought, 'That could be a really good painting,' so I ripped that corner off. Every now and then, I would rip another corner off. I was seeing paintings everywhere. I went back to my notes on file throught the years and realized I hadn't always done that.
"I knew that art was more and more on my mind."
About 25 of Jackson's paintings are on exhibit through Dec. 1 at CornerHouse Gallery, 2753 First Ave. SE. The exhibit is part of a 25th anniversary celebration for the gallery.
Art drew Jackson's interest ever since he was in high school and his attention was caught by the work his college-student brother did in art classes.
Jackson went on to earn a bachelor's degree at Western Illinois University and a master of fine arts degree at the University of Notre Dame.
"I studied art with the idea of teaching it in high school, but I never did end up doing that."
Fate stepped in when, as a grad student, he had a one-person exhibit at Mount Mercy College. Shortly before graduation, Mount Mercy offered him a position as instructor of art, which he accepted.
After four years at the college, he decided he'd rather be doing than teaching. He became an illustrator/designer for a Waverly firm before moving on to Stamats. He did design work for 3 1/2 years before moving up the ladder. When he left the company a little over a year ago, he was vice president for client development.
"If I could split myself into more than one person, I would keep working at Stamats and b e a full-time artist...but I only have one life. At Stamats, I gave a hundred percent. Now, I'm an artist, and I give that 100 percent.
"When you're working, it's hard to clear your mind. I would take a week off, and it would be several days before I would stop thinking about work and start thinking about painting. Now, I think about painting every day, not just 9 to 5."
Jackson works in collage, watercolor on paper, and oils on canvas, currently concentrating on the latter two. Some pieces are as large as 4-by-6 feet.
Over the years, Jackson says, he's done many kinds of art, including figurative work, portraits and landscapes.
"Since the mid-70's, I've done abstract art on a fairly consistent basis," he says.
"Sometimes I stop and do something realistic, but I keep coming back to abstract.
Those doodles on his business notes became a source of inspiration for his abstracts, as did his facination with ancient cultures.
"One painting is based on a photo that was in the Gazette of ancient cave engravings from about 25,000 B.C. that were found in France. It struck me that they looked very much like the line drawings that artists do today.
"We like to think we've come so far, but we have a lot in common with those people."...