---
Quotes About the Artwork of Thomas C. Jackson
Artist's Statement About
Recent Work
One-person show, Blanden Art Gallery, 1979
The following article appeared in the Fort Dodge Messenger Tuesday, January 2, 1979 (the text is transcribed below):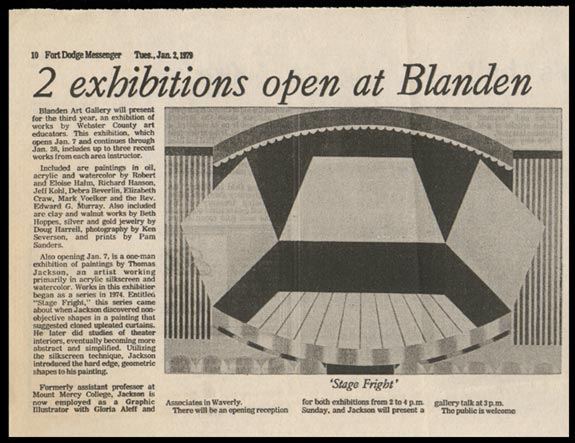 [headline] 2 exhibitions open at Blanden
[copy] "...Also opening Jan. 7, is a one-man exhibition of paintings by Thomas Jackson, an artist working primarily in acrylic, silkscreen and watercolor. Works in this exhibit began as a series in 1974. Entitled "Stage Fright," this series came about when Jackson discovered non-objective shapes in a painting that suggested closed unpleated curtains. He later did studies of theater interiors, eventually becoming more abstract and simplified. Utilizing the silkscreen technique, Jackson introduced the hard edge, geometric shapes to his painting.
Formerly assistant professor at Mount Mercy College, Jackson is now employed as a Graphic Illustrator with Gloria Aleff and Associates in Waverly.
There will be an opening reception for both exhibitions from 2 to 4 p.m. Sunday, and Jackson will present a gallery talk at 3 p.m.
The public is welcome.