One-person show, Hamilton Gallery, Des Moines Iowa
The following article appeared in the Des Moines Sunday Register December 21, 1975 (the text is transcribed below):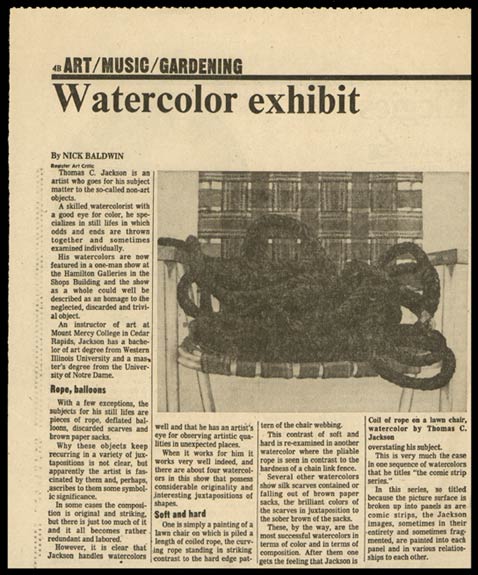 [headline] Watercolor exhibit
[subhead] By Nick Baldwin, Register Art Critic
[copy] Thomas C. Jackson is an artist who goes for his subject matter to the so-called non-art objects.
A skilled watercolorist with a good eye for color, he specializes in still lifes in which odds and ends are thrown together and sometimes examined individually.
His watercolors are now featured in a one-man show at the Hamilton Galleries in the Shops Building and the show as a whole could well be described as an homage to the neglected, discarded and trivial object.
An instructor of art at Mount Mercy College in Cedar Rapids, Jackson has a bachelor of art degree from Western Illinois University and a master's degree from the University of Notre Dame.
[subhead] Rope, balloons
With a few exceptions, the subjects for his still lifes are pieces of rope, deflated balloons, discarded scarves and brown paper sacks.
Why these objects keep recurring in a variety of juxtapositions is not clear, but apparently the artist is fascinated by them and, perhaps, ascribes to them some symbolic significance.
In some cases the composition is original and striking, but there is just too much of it and it all becomes rather redundant and labored.
However, it is clear that Jackson handles watercolors well and that he has an artist's eye for observing artistic qualities in unexpected places.
When it works for him it works very well indeed, and there are about four watercolors in this show that possess considerable originality and interesting juxtapositions of shapes.
[subhead] Soft and hard
One is simply a painting of a lawn chair on which is piled a length of coiled rope, the curving rope standing in striking contrast to the hard edge pattern of the chair webbing. This contrast of soft and hard is re-examined in another watercolor where the pliable rope is seen in contrast to the hardness of a chain link fence.
Several other watercolors show silk scarves contained or falling out of brown paper sacks, the brilliant colors of the scarves in juxtaposition to the sober brown of the sacks.
These, by the way, are the most successful watercolors in terms of color and in terms of composition. After them one gets the feeling that Jackson is overstating his subject.
This is very much the case in one sequence of watercolors that he titles "the comic strip series."
In this series, so titled because the picture surface is broken up into panels as are comic strips, the Jackson images, sometimes in their entirety and sometimes fragmented, are painted into each panel and in various relationships to each other.