Two-person show, ArtHouse Gallery, Des Moines
The following article appeared in the Des Moines Sunday Register January 13, 2002 (the text is transcribed below):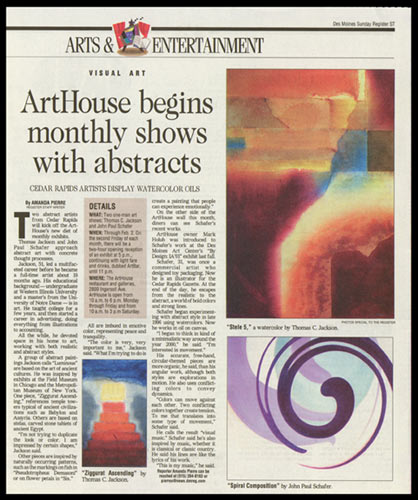 [headline] ArtHouse begins monthly shows with abstracts
[subhead] Cedar Rapids Artists Display Watercolors, Oils. By Amanda Pierre
[copy] Two abstract artists from Cedar Rapids will kick off the ArtHouse's new diet of monthly exhibits.
Thomas Jackson and John Paul Schafer approach abstract art with concrete thought processes.
Jackson, 51, led a multifaceted career before he became a full-time artist about 19 months ago. His educational background -- undergraduate at Western Illinois university and master's from the University of Notre Dame -- is in art. He taught college for a few years, and then started a career in advertising from illustrator to account executive.
All the while, he devoted space in his home to art, working with both realistic and abstract styles.
A group of abstract paintings Jackson calls "Luminous" are based on the art of ancient cultures. He was inspired by exhibits at the Field Museum in Chicago and the Metropolitan Museum of New York. One piece, "Ziggurat Ascending," references temple towers typical of ancient civilizations such as Babylon and Assyria. others are based on stelas, carved stone tablets of ancient Egypt.
"I'm not trying to duplicate the look or color. I am impressed by certain shapes," Jackson said.
Other pieces are inspired by naturally occurring patterns, such as the markings on fish in "Pseudotropheus Demasoni" or on flower petals in "Six."
All are imbued in emotive color, representing peace and tranquility.
"The color is very, very important to me," Jackson said. "What I'm trying to do is create a painting that people can experience emotionally."
On the other side of the ArtHouse wall this month,...Schaffer's recent works...