About Face Gallery 1
When was the last time you looked carefully at someone for 25 or more minutes without a break?
In 2008 Jackson began to leave areas of oil paintings unfinished. The resulting combinations of finished areas and areas left in line became one of his recurring motifs. Because the use of line was becoming more important to his body of work, he wanted to understand it as well as he could. He began attending a drawing group twice a week and using ink applied with brush to learn about line.
He says: "When I began drawing the figure seriously, I thought of it as practicing abstract elements rather than depicting distinct personalities. I would often leave the heads of the figures off completely and draw what I thought were the most interesting positive and negative shapes. In a very short time, however, I became interested in learning about each person and revealing something about their likeness and personality in each drawing."
(Continued below images.)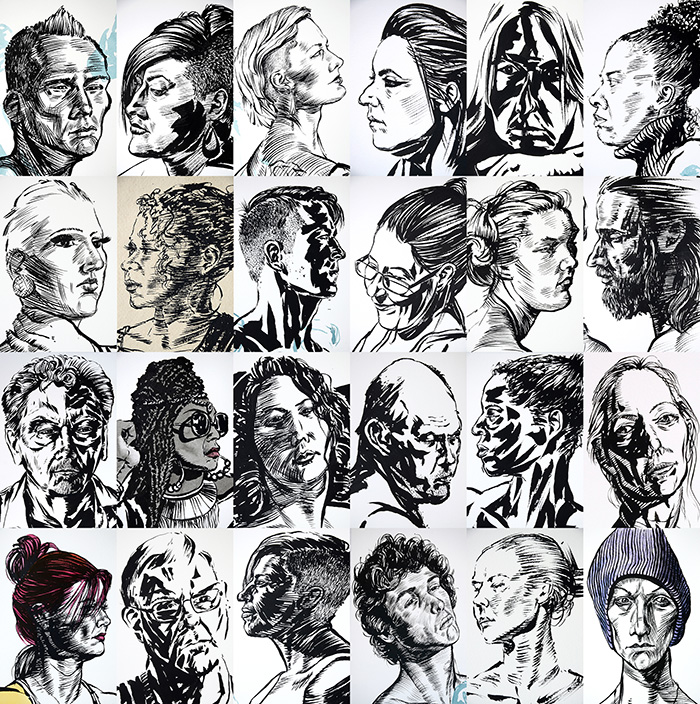 Of his overall practice of drawing from life, Jackson states: "In recent years I have become increasingly interested in observing people and society. Because these people are leading their lives today, I stay connected to social issues, including body image, aging, gender identity, generational attitudes, social stratification, race, politics, tattooing, women's rights, etc. The process of talking with and drawing real people a few feet away injects immediacy and contemporary relevance into my work."
Jackson begins each drawing with the face and builds more complex compositions from there. About Face is a collection of details of larger drawings that highlight the variety of lines used to render each face. While the same materials are used for each drawing, the results have great variety. While he uses a single brush, some line use is light and delicate and some is bold and expressionistic. Models bring their own features, moods, and attitudes. Light is very important and can vary by supplemental lighting, time of day, cloud movement, or time of year. Poses or costumes also suggest different approaches. The length of the pose, varying usually between 20 minutes and an hour and a half, also influences the final drawing.